Home > Images Dated > 2008 > October > 10 Oct 2008


Pictures Dated 10th October 2008
Available as Framed Prints, Photos, Wall Art and Gift Items
Choose from 1 pictures in our Pictures Dated 10th October 2008 collection for your Wall Art or Photo Gift. Popular choices include Framed Prints, Canvas Prints, Posters and Jigsaw Puzzles. All professionally made for quick delivery.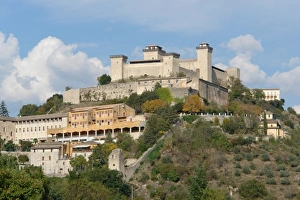 Featured 10 Oct 2008 Print
Albornozian Castle, Spoleto, Umbria, Italy
View of the 14th century Albornozian Castle or Rocca Albornoziana, a focal point of the ancient city of Spoleto in Umbria, Italy.
© Mary Evans Picture Library/Hubertus Kanus
14th, Albornozian, Albornoziana, Ancient, Building, Buildings, Castle, Century, City, Focal, Historical, History, Italian, Italy, Point, Rocca, Spoleto, Tower, Towers, Umbria