Home > Images Dated > 2008 > August > 28 Aug 2008


Pictures Dated 28th August 2008
Choose from 1 pictures in our Pictures Dated 28th August 2008 collection for your Wall Art or Photo Gift. Popular choices include Framed Prints, Canvas Prints, Posters and Jigsaw Puzzles. All professionally made for quick delivery.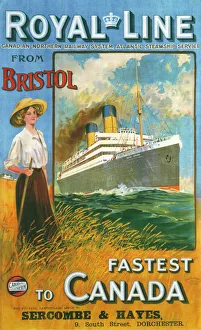 Featured 28 Aug 2008 Print
Royal Line poster
Poster promoting Royal Line Northern Canadian railway system and Atlantic steamship service, showing a ship crossing the Atlantic on the way to Canada from Bristol, where a wholesome and healthy farming life awaits any emigrant passengers.
© Mary Evans Picture Library 2015 - https://copyrighthub.org/s0/hub1/creation/maryevans/MaryEvansPictureID/10239647
Agriculture, Arable, Atlantic, Boat, Boats, Canada, Canadian, Cereal, Corn, Crops, Crossing, Emigrant, Emigration, Farm, Farmer, Farming, Healthy, Historical, History, Lady, Life, Line, Liner, Liners, Northern, Passengers, Poster, Royal, Service, Ship, Ships, Steam Ship, Steam Ships, Wheat, Wholesome, Woman