Home > Images Dated > 2008 > September > 19 Sep 2008


Pictures Dated 19th September 2008
Choose from 1 pictures in our Pictures Dated 19th September 2008 collection for your Wall Art or Photo Gift. Popular choices include Framed Prints, Canvas Prints, Posters and Jigsaw Puzzles. All professionally made for quick delivery.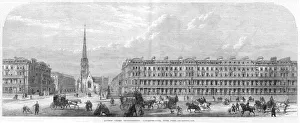 Featured 19 Sep 2008 Print
Lancaster Gate, Hyde Park, 1866
Engraving showing a street scene in Lancaster Gate, Hyde Park, London, 1866. The houses on the right were built by John Kelk between 1863-7.
© Mary Evans Picture Library 2015 - https://copyrighthub.org/s0/hub1/creation/maryevans/MaryEvansPictureID/10221803
07, 1863, 1866, 21, 24, Built, Dec, Engraving, Gate, Historical, History, Houses, Hyde, Iln, Import, John, Kelk, Lancaster, March, Park, Scene, Showing, Street