Home > Images Dated > 2008 > August > 7 Aug 2008


Pictures Dated 7th August 2008
Choose from 2 pictures in our Pictures Dated 7th August 2008 collection for your Wall Art or Photo Gift. Popular choices include Framed Prints, Canvas Prints, Posters and Jigsaw Puzzles. All professionally made for quick delivery.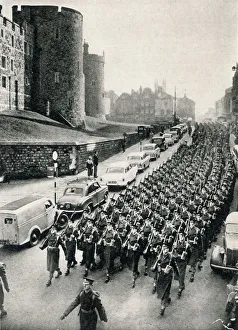 Featured 7 Aug 2008 Print
1st battalion, Scots Guards, 1958
Leaving England for Germany: the 1st battalion, Scots Guards, march past Windsor castle en route to the railway station. On Nov. 14 the 1st Battalion, Scots Guards, left Windsor for Germany, where they were to join the 4th Guards Brigade, near Dusseldorf. Traditionally, Scots Guards battalions about to move station are roused at dawn by drums and fifes playing the 'Long Reveille'.
© Mary Evans Picture Library 2015 - https://copyrighthub.org/s0/hub1/creation/maryevans/MaryEvansPictureID/10238972