Home > Images Dated > 2008 > August > 17 Aug 2008


Pictures Dated 17th August 2008
Choose from 1 pictures in our Pictures Dated 17th August 2008 collection for your Wall Art or Photo Gift. Popular choices include Framed Prints, Canvas Prints, Posters and Jigsaw Puzzles. All professionally made for quick delivery.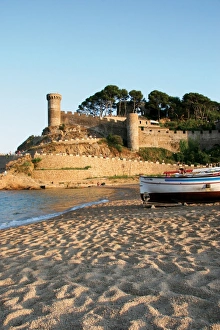 Featured 17 Aug 2008 Print
TOSSA DE MAR. Catalonia. Spain
TOSSA DE MAR. Town located in the Costa Brava. Landscape coast. Fishing boat in the sand beach. La Selva Region. Girona Province. Catalonia. Spain. Europe.
© Thaliastock / Mary Evans
Beach, Boat, Brava, Catalan, Catalonia, City, Coast, Coastal, Coastline, Costa, De, Exterior, Fishing, Geography, Gerona, Girona, Grit, Historical, History, Holiday, Holidays, Littoral, Locality, Mar, Mediterranean, Old, Outside, Place, Sand, Scene, Sea, Ship, Spain, Summer, Sunset, Tossa, Tourism, Tourist, Tourists, Tow, Tower, Town, Traditional, Village, Wall, Walled, Walls