Palaeoloxodon Gallery
Available as Framed Prints, Photos, Wall Art and Gift Items
Choose from 1 pictures in our Palaeoloxodon collection for your Wall Art or Photo Gift. Popular choices include Framed Prints, Canvas Prints, Posters and Jigsaw Puzzles. All professionally made for quick delivery.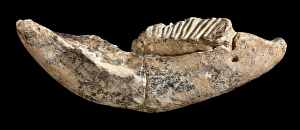 Featured Print
Dwarf elephant tooth
Tooth and jawbone of the dwarf elephant Palaeoloxodon cypriotes, between 10, 000 and 800, 000 years old. This fossil tooth and jawbone was one of the first pieces of evidence that miniature elephants once lived on Cyprus. It was discovered by intrepid collector Dorothea Bate, the first female scientist employed at the Natural History Museum.
© Mary Evans / Natural History Museum