Maharaj Gallery
Available as Framed Prints, Photos, Wall Art and Gift Items
Choose from 2 pictures in our Maharaj collection for your Wall Art or Photo Gift. Popular choices include Framed Prints, Canvas Prints, Posters and Jigsaw Puzzles. All professionally made for quick delivery.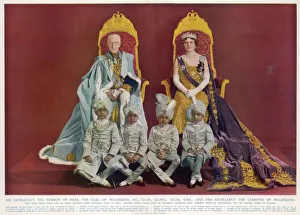 Featured Print
The Viceroy of India, Lord Willingdon
His Excellency the Viceroy of India, the Earl of Willingdon and Her Excellency the Countess of Willingdon with their pages, (from left to right), Maharaj Kumar Yeshwant Singh of Datia, Maharaj Kumar Hukam Singh of Jaisalmer, Sahibzada Mohd Mobarak Abbasi of Bahawalpur and the Maharaj Kumar of Benares.
© Illustrated London News Ltd/Mary Evans