Benedek Gallery
Available as Framed Prints, Photos, Wall Art and Gift Items
Choose from 2 pictures in our Benedek collection for your Wall Art or Photo Gift. Popular choices include Framed Prints, Canvas Prints, Posters and Jigsaw Puzzles. All professionally made for quick delivery.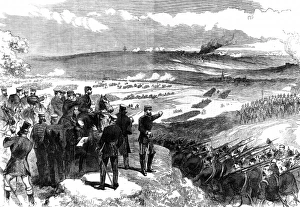 Featured Print
The Prussian Army advance at the Battle of Sadowa; Seven Wee
Illustration showing the army of the Crown Prince of Prussia advancing at the Battle of Sadowa during the Seven Weeks War (or Austro-Prussian War) of 1866. This war, between the Prussians and the Austro-Hungarians, signified the start of Prussian expansionism, which ultimately led to the Franco-Prussian War. General Moltke, with help from Bismarck, defeated the Austro-Hungarian Army under General Benedek.
© Illustrated London News Ltd/Mary Evans