Alabastra Gallery
Available as Framed Prints, Photos, Wall Art and Gift Items
Choose from 2 pictures in our Alabastra collection for your Wall Art or Photo Gift. Popular choices include Framed Prints, Canvas Prints, Posters and Jigsaw Puzzles. All professionally made for quick delivery.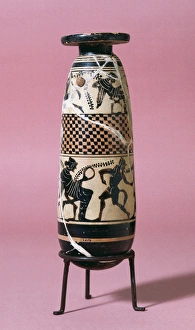 Featured Print
Alabastron. 6th century BC. Empuries. Spain
Alabastron for perfumes with scene depicting Dionysus accompanied by a bearded satyr with billy goat body. Black figures. 6th century BC. From Empuries. Girona Archaeological Museum. Spain.
© Thaliastock / Mary Evans
6th, Age, Alabaster, Alabastra, Alabastron, Ampurias, Ancient, Antiquity, Archaeological, Archaeology, Art, Bc, Beard, Bearded, Billy, Black, Body, Catalan, Catalonia, Century, Container, Decorated, Decoration, Dionysos, Dionysus, Divinity, Empuries, Figure, Gerona, Girona, Goat, God, Greece, Greek, Greeks, Historical, History, Interior, Museum, Myth, Mythological, Mythology, Oil, Perfume, Pottery, Province, Satyr, Scene, Small, Spain, Spanish, Wine