Aerst Gallery
Available as Framed Prints, Photos, Wall Art and Gift Items
Choose from 1 pictures in our Aerst collection for your Wall Art or Photo Gift. Popular choices include Framed Prints, Canvas Prints, Posters and Jigsaw Puzzles. All professionally made for quick delivery.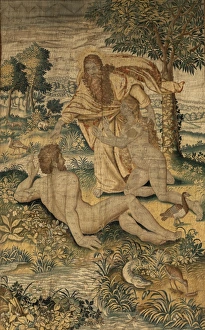 Featured Print
God creates woman. Flemish tapestry 1630 c
God creates Woman and introduces her to Adam. ca. 1630. Series of the Genesis or The Creation of Man. Cardboard after original of Michiel Coxcie. Manufacturing in Brussels by Jan Aerst. Silk and wool. 330 x 260 cm. Flemish art. Tapestry. SPAIN. CASTILE AND LEON. Burgos. Cathedral of St. Mary.
© Fundaci󮠃arlos de Amberes/Iberfoto/Mary Evans
1630, 260, 330, Adam, Aerst, Art, Arts, Brussels, Burgos, Ca, Cardboard, Castile, Cathedral, Cm, Coxcie, Creates, Creation, Decorative, Early, Era, Eve, Fabric, Fabrics, Flemings, Flemish, Genesis, God, History, Introduces, Jan, Leon, Making, Man, Manufacturing, Mary, Michiel, Modern, Original, Series, Silk, Spain, St, Tapestries, Tapestry, Textile, Textiles, Times, Western, Woman, Wool