6bc Gallery
Available as Framed Prints, Photos, Wall Art and Gift Items
Choose from 2 pictures in our 6bc collection for your Wall Art or Photo Gift. Popular choices include Framed Prints, Canvas Prints, Posters and Jigsaw Puzzles. All professionally made for quick delivery.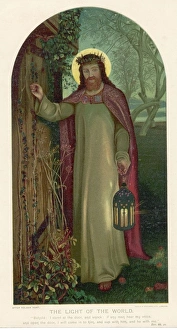 Featured Print
Jesus as Light of World
Jesus of Nazareth, religious leader of Jewish origin who preached 'Christianity', depicted here as The Light of the World, knocking at the door of the human soul.
© Mary Evans Picture Library
30ad, 6bc, Art, Artist, Christ, Christian, Christianity, Conversion, Door, Halo, Historical, History, Holman, Human, Hunt, Jesus, Jewish, Knocking, Lantern, Leader, Light, Nazareth, Origin, Pre Raphaelite, Preached, Religious, Soul, Victorian, Weeds, World